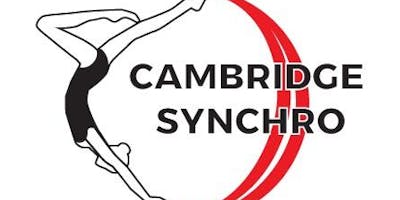 Cambridge Synchro Annual Show 2019
Cambridge Synchro will hold three watershows: one on Friday, June 14 at 7:00pm and two on Saturday, June 15, 2018 - at 3:00 pm and at 7:00 pm. This is the team's largest annual fundraising event. Ticket prices are $15.00 per adult and $10.00 for seniors over 65 & youth age 3-17. Tickets for this event go on sale online to the public starting on May 29 at 8:00 am.
Please print your ticket receipt at home or save on your mobile device. Please bring your printed or mobile receipt to the door for entrance to the show. Admission will begin 30 minutes prior to show time. You will receive a sticker and a color program. As our seating capacity is limited to 220 people and often sells out quickly we urge you to purchase your tickets online and prior to the event. We will generate a wait list should the event sell out. For those in need of assistance, please contact the event organizer directly.
Cambridge Synchro aims to make our sport and events accessible to all. As such please consider making a cash donation of any amount at the door on the day of the event or online when you purchase your tickets. Donations may go to our junior olympic team, scholarship fund, provide free admission to those in need of support or go to support other team related needs. Thank you.
You can find more information about the team at our website: www.cambridgesynchro.org