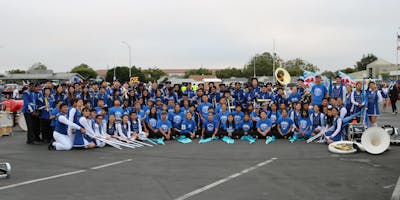 2019 Summer Cadet Regiment
What are we doing? 
This summer we will be continuing our TBC Cadet Regiment for Junior High students. This program will help students learn the fundamentals of marching so that they are more prepared for marching band in high school. Our instructors include high school marching band coaches, upperclassmen high school students, and even several judges from the Northern California Band Association (NCBA). We hope that this program will help introduce marching band to students and help them realize how fun it can be.

From a competitive standpoint, all the highest performing bands typically start marching competitions in Jr. High. By offering this program to Jr. High students, we are not only preparing them as individuals, but also helping the whole high school program succeed in the fall band reviews.
---
Who is this program for? 
Our Cadet Regiment is open to all current (2018-2019 school year) 6th, 7th, and 8th grade students. 
YOU DO NOT NEED TO BE IN THE SCHOOL BAND TO JOIN AND NO EXPERIENCE IS NECESSARY. In fact, a large majority of our Color Guard members are from Choir, Orchestra, and other non-band students.
Here are just some of the great reasons why you should get involved with TBC!
• Make new friends from other schools
• Have fun performing in front of thousands of audience members, which is more than any concert program.
• Learn how to march, so you're more prepared for high school. This will in turn help make our high school programs stronger, leading to more awards throughout the school year.
• Gain leadership opportunities! Students run just about everything in TBC.
---
Rehearsals:
Every Tuesday, Thursday, and Friday from 6:00pm - 8:00pm                                                                                    Start: Friday, June 14th, 2019                                                                                                                              End: Tuesday, July 30th, 2019
---
Attendance:
Students DO NOT need to attend all rehearsals. It is perfectly fine to be absent for summer camps or vacations, but we do need you to inform us of all absences in advance. Please report any known absences in your registration. You can also email us later to report absences. Students with multiple un-excused absences may be dropped from the program.
All students must attend at least one of the parades in order to participate in the program. 
---
Fees: 
There are no fees to join or participate in TBC. New band students will be asked to purchase a folio and lyre which is required for high school marching band anyway.