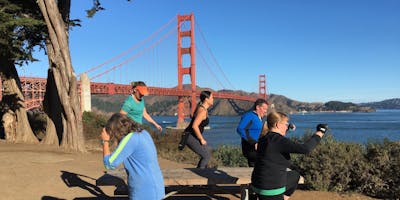 Scenic Fit – Crissy Field Workout
Come join us for a fun scenic workout in and around Crissy Field! We'll be covering some ground as we scale stairs, do some squats with a view and work our upper body and abs while taking in the sights and sounds of the picturesque San Francisco seashore. Come with a friend or by yourself and maybe meet a new peep or two. 
**Must be able to run 1-mile. **
What a great way to start your Saturday morning!
Schedule –
8:15 am – 8:30 am Check-in at the community area of The San Francisco Presidio Sports Basement
8:30 am - 9:30 am Travelling workout around Crissy Field
9:30 am - 9:45 am Stretching and drawing for Scenic Fit San Francisco - 10 Inspiring City Workouts book giveaway