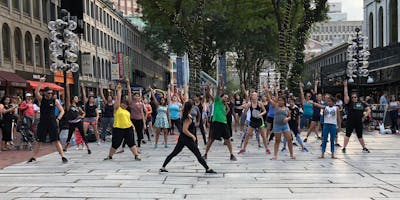 FREE BollyX Classes at Boston Faneuil Hall
GET READY TO UNLEASH YOUR INNER ROCKSTAR!
We're bringing BollyX - The Bollywood Workout to Faneuil Hall this summer for the third year in a row! From Tuesday May 28 through July 30 (no class July 2), BollyX will offer all classes every Tuesday from 6-7 pm. Sign up for one or for all! Registration is free and open to the public. 
Open to all fitness levels. We recommend bringing water, and wearing sneakers and comfortable workout clothes for BollyX as this is a dance fitness program. However, we often see people walking by the area and joining in on the dancing, no matter what they have on (we've seen it all from high heels to suit & tie)! 
Please check the Facebook event for rain cancellations. They will be announced before 5 pm if inclement weather is forecasted.
SOCIAL MEDIA
– Instagram: @bollyxfitness @faneuilhall 
– Hashtags: #bollyx #thebollywoodworkout #faneuilhall
– YouTube: bollyxfitness
– Facebook: bollyxfitness

WHAT IS BOLLYX?
BollyX is a Bollywood-inspired dance-fitness program that combines dynamic choreography with the hottest music from around the world. Its 50-minute cardio workout cycles between higher and lower-intensity dance sequences to get you moving, sweating, and smiling all at the same time!
Catch a glimpse of BollyX here!