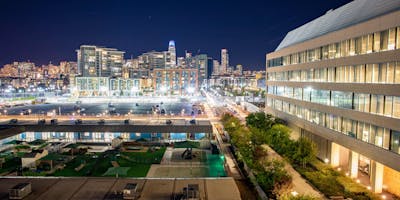 UCSF Professional Voice Symposium: Advancing Care of the Singing Voice
This is a one-day course presented by a multi-disciplinary team of voice and other medical specialists directed toward singers, speech language pathologists, singing voice teachers, physicians and other professionals interested in the singing voice. This dynamic program will provide a foundation for understanding voice production, special considerations for the vocal professional, insights into a lifetime of vocal performing and power with Joan Baez, in addition to practical case presentations. Please join us to learn and contribute to the discussion!
Networking lunch, food will be provided.
**
Remote attendance via livestream is now available. Be sure to choose this option when registering and your unique link will be sent with all the necessary information prior to the course. 
**
Parking at Mission Bay
UCSF's Mission Bay campus has several public parking facilities:
**All parking options are about 4-7 minute walks from Rock Hall.

**
                                             Featuring: Joan Baez
8:30am            Registration 
9:00am            Anatomy and Physiology of Voice Production: Calibrating language! 
                        VyVy Young
9:30am            Q & A                                                       
9:45am            Giving Resonance to the Evidence: Top 5 tips Speaking Voice, Classical Singing, Contemporary Singing, and Singing Rehabilitation
                        Whitney Nichole Cytryn, Ruth Rainero, Sarah Schneider
10:25am          Q & A
10:45am          24 hours 'til Curtain: What to do with a sick singer? 
                        Clark Rosen
11:15am          Q & A
11:30am          LUNCH with the faculty - Provided
1:00pm            Perspective from a Lifelong Singer: Chatting with Joan Baez
                        Sarah Schneider and Clark Rosen
2:00pm            Q & A
2:15pm            Top 5 Things Every Singer NEEDS to Know: 
                        Allergy – Patricia Loftus
                        Gastroentrology – Priya Kathpalia
                        Mindfulness/Stress management – Paul Axelrod
3:00pm            Q & A
3:15pm            Case presentations: Panel discussion
                        Panel: Clark Rosen, Sarah Schneider, Whitney Nichole, Ruth Rainero
                        Moderaters: VyVy Young
4:15pm            Q & A
4:30pm            Dismissal and Happy Hour


Course Directors

:
Clark A. Rosen, MD
Lewis Francis Morrison, MD Endowed Chair in Laryngology
Professor, Department of Otolaryngology – Head & Neck Surgery
Chief, Division of Laryngology
Director, UCSF Voice and Swallowing Center
University of California, San Francisco
Sarah L. Schneider, MS, CCC-SLP
Assistant Clinical Professor
Speech-Language Pathology Director
Department of Otolaryngology Head and Neck Surgery
Co-Director, UCSF Voice and Swallowing Center
University of California, San Francisco
Course Faculty

:
Paul Axelrod, PhD
Learning Services
UCSF Health

Priya Kathpalia, MD
Assistant Professor
Gastroenterology
Department of Medicine
Whitney Nichole Cytryn
Songbird Studios
Owner and Head Vocal Coach
Chairperson of Vocology in Practice
Ruth Rainero, MM
Ruth Rainero's Voice Studio and Speak Out! Communication Skills
VyVy N. Young, MD FACS
Associate Professor
Associate Residency Program Director
Department of Otolaryngology - Head and Neck Surgery
University of California - San Francisco
Voice and Swallowing Center