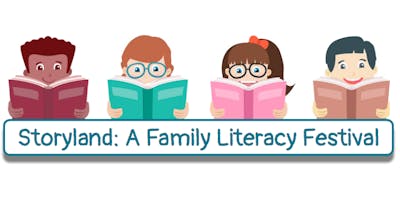 2nd Annual Storyland: A Family Literacy Festival
PLEASE SEE OUR FLYERS IN ENGLISH, SPANISH (Mundo de Historietas: Un Festival de Literario Familiar), AND CHINESE (故事樂園:家庭讀寫日)!
***Note: this event is for Alameda County children entering pre-kindergarten (pre-K), transitional kindergarten (TK), and kindergarten (K) in the fall, and up to two accompanying adults.***
Research shows that high-quality early childhood education promotes pathways to success, from preschool to college and career. For this reason, we are hosting our second annual family literacy event!
Adults will:



Learn ready-to-use strategies to promote a love for reading and combat "summer slide" (when some skills learned during the year are forgotten)


Receive resources on how to access free books through local libraries and online


Early learners will:



Experience interactive read-alouds based on favorite stories--in English, Mandarin, and Spanish


Receive books, activities, and raffle prizes



Everyone will enjoy breakfast or lunch on us (depending on the session)!
Pre-registration is required. Limit 2 adults per child; choose between Session 1 or 2. 
Agenda:
SESSION 1
8:30-9:00 Check-in and Breakfast
9:00–9:20 Welcome and Interactive Songs
9:20-9:30 Raffle
9:30-9:35 Passing
9:35-10:35 Morning Big Read with Activities (offered in English, Mandarin, and Spanish)
OR

SESSION 2
11:00-11:30 Check-in and Lunch
11:30-11:50 Welcome and Interactive Songs
11:50-12:00 Raffle
12:00-12:05 Passing
12:05-1:05 Afternoon Big Read with Activities (offered in English, Mandarin, and Spanish)
Questions?
Contact Maria Vlahiotis, Program Director, Language & Literacy
mvlahiotis@acoe.org
510-670-4239