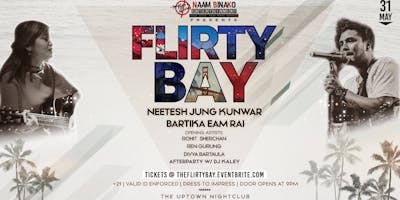 Neetesh Jung Kunwar & Bartika Eam Rai ( Live in Bay Area)| FLIRTY BAY |
After several events in the past, we are back with the blast. 
We would like to Welcome you once again at FLIRTY BAY featuring Wonderful , talented, songwriters and voice of youths. Gems of Nepali music: Neetesh Jung Kunwar and Bartika Em rai in one stage. 
Lets come together to shower them love. 
We would like to showcase our local talents. Opening Acts by Divya Bartaula, Rohit Sherchan & Ren Gurung.
Be there to Support Nepali music and Young talents of Nepal !
Neetesh Jung Kunwar: https://bit.ly/2OkKZrk
Bartika Eam Rai: https://bit.ly/2OlWVch
More updates on Official Facebook Page: Naam Binako Entertainment
                             Official Instagram Page: NBK.ENT