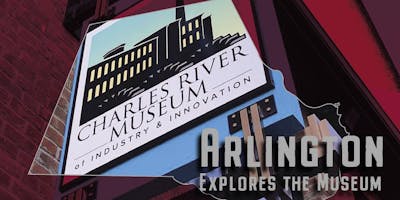 Arlington Explores the Museum
We are inviting the Arlington community to come and enjoy the Charles River Museum at the start of our new "Friday Nights at the Museum" Series. 
Arlington Explores the Museum
On various Friday nights we will open to a select group of visitors in order to provide a unique experience. On this particular night, one of our staff will provide an overview of groundbreaking business founded on the site which houses the Museum, and which skyrocketed the Northeast into the American Industrial Revolution: the Boston Manufacturing Company.  Highlights of a few of the exhibits currently on display will follow.
Doors open at 5:30. Presentations will occur twice: 6PM and 7PM
Special Event Admission: $8 for Adults, kids 17 & under are FREE


---
IMPORTANT DIRECTION AND PARKING INFORMATION FOR THE CHARLES RIVER MUSEUM
There is NO Museum Visitor Parking at the Francis Cabot Lowell Mill complex. You will be subject to tow by the Mill.
If you are coming to the Charles River Museum for the first time, it is helpful to follow the directions, map and advice below: 
While the Museum's address is 154 Moody St. in Waltham, we are not right on the street but rather at the far end of the Francis Cabot Lowell Mill complex.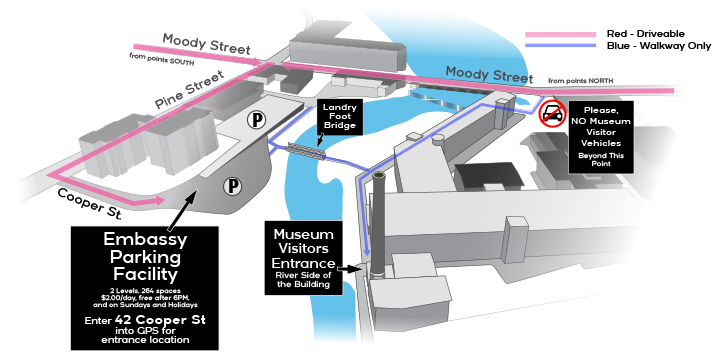 Because there is no Museum Visitor parking at the Mill, we recommend using the many public lots in Waltham. The one closest and most accessible to the Museum is the Embassy Parking Facility off Pine St. Enter 42 Cooper St into your GPS to locate the entrance to the lot. To then reach the Museum, cross the footbridge which crosses the Charles River and then keep to your right along the Mill. A brief 2-5 minute walk will bring you to our Visitor Entrance. The Charles River Museum is directly under the factory smokestack.
Please DO NOT BRING VEHICLES DOWN THE LANDRY WAY PATH. It is restricted to Emergency Vehicles ONLY and is a DEAD END with no turnaround.


If walking coming from Moody St itself, enter at the pathway immediately North of the Moody St Bridge next to Enterprise-Rent-A-Car. Follow to the right alongside the Charles River and down Landry Way along the river side of the Mill.   
If you need further assistance or information, the Museum phone number is 781-893-5410
We look forward to seeing you at the Museum!