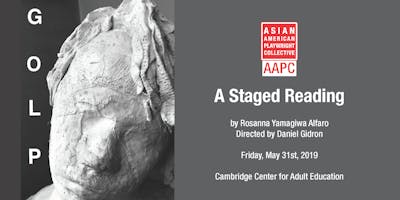 New Play Series
About The Play                                                                                                                                                   
What Does It Mean To Be Human? 
A scientist creates Golp, an emotional android, to be a companion for her lonely mother and a playmate for her adopted daughter. At first Golp seems like the perfect tabula rasa for his human family, but he soon develops a mind of his own. 

The play was part of Huntington Theater's 2013 Summer Workshop.
About The Playwright
Rosanna Yamagiwa Alfaro's plays include: Before I Leave You (Huntington Theatre), Behind Enemy Lines (Pan Asian Repertory), Mishima (East West Players), Barrancas (Magic Theater), Pablo and Cleopatra (New Theatre), and Martha Mitchell  (Edinburgh Fringe Festival). She wrote and narrated the documentary "Japanese American Women: A Sense of Place", directed by Leita Luchetti, (the Smithsonian Institution traveling exhibition and PBS Seattle). A Huntington Playwriting Fellow (2010) and MCC Artist Fellow in Playwriting (2011), her shorter plays have been anthologized by Baker's Plays, Heinemann, Meriwether, PlaySource, Smith and Kraus, in vivo INK, and Charta Books
About The Event
The Asian American Playwright Collective (AAPC) is thrilled to kick off its' New Play Series with Rosanna Yamagiwa Alfaro's play "Golp".
7:00 PM Refreshment and non-alcoholic beverages
7:30 PM to 9:30 PM Staged Reading 
This event was made possible from the generous support of The Boston Foundation and the Bob Jolly Trust.
Frequently Asked Questions
Where is the Cambridge Center for Adult Education?
The event is at Cambridge Adult Education's 2nd location: 56 Brattle Street.(next to Burdick's Chocolates). Walk up the path to Speigle Auditorium.
How Can I Get There?
By Public Transportation: The Cambridge Center for Adult Education is a five minute walk from the Harvard Square T Station on the Red Line.
By Car: Metered parking (and Cambridge Resident Permit Parking) on Brattle Street and side streets. Please be advised parking and traffic can be a challenge on a Friday evening. 
About The AAPC
The Asian American Playwright Collective is comprised of Boston based playwrights, who have banded together to raise awareness of the breath and depth of new work that is informed by a complex and multi-layered identity. https://aapcboston.wixsite.com/mysite#!