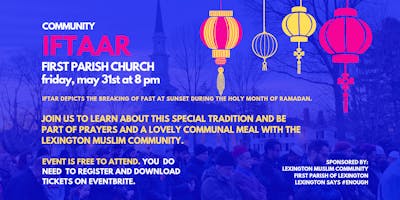 Community Interfaith Iftar
We received much interest in Islam from our fellow non Muslim neighbors and friends, after a memorable New Zealand vigil that we held on Historic Lexington Green, where about 500 to 700 people from all walks of life gathered for the Vigil. Interest is particularly in Ramadan and our other faith related activities.  
 
Therefore, we will be having an inter denomination / interfaith Iftar on the last Friday of Ramadan, the May 31st, 2019. The event is free, that includes Dinner, Henna, Baloon Art, and Pizaa for Kids
 
Iftar will be across from Lexington Green. Azan and Maghrib will be performed on the ground next to Lexington Green, thereafter everyone will head over for a catered Iftar dinner at First Parish about 2 minute walk away. We will have Isha prayers after the dinner at the First Parish. 
 
Due to space constraints, catered dinner, and for an intimate event, where we all get to know each other, we are having to limit the event to 200 adults. You will only have the access to the event by an RSVP here on first come first serve basis. There is no mandatory cost to attend, but you must register here to attend, and show your registration on your phone or paper at the event. 
Looking forward to seeing you all Insha-Allah.
Kindly email me at tahirc@myvillage.us with any issues.
Tahir Chaudhry
• April 23, 2019