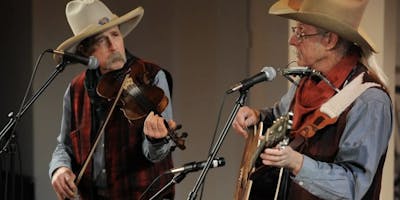 SSTC Unplugged: Pop Wagner & Bob Bovee
Pop Wagner & Bob Bovee will join State Street Theater Co.  for their "Unplugged" series on Friday, May 31, starting at 7:30 P.M. The concert will take place on stage at the historic State Street Theater at 1 N. State Street, New Ulm, MN.  
Bob Bovee and Pop Wagner met in 1971 over a bowl of chili one winter's night in the West Bank neighborhood of Minneapolis. After dinner, they played some old-time music. They've been doing that off and on ever since. On their first "tour" together they traveled by thumb and boxcar through eleven western states covering nearly 5,000 miles, stopping along the way to play in folk clubs and taverns and on street corners. For nearly five decades they have entertained audiences spanning America, Canada and across the pond, including the Winnipeg Folk Folk Festival, the San Diego Folk Festival, the Five College Folk Festival in Massachusetts, and four tours together in Europe.
 A Wagner-Bovee performance offers a generous dose of authentic cowboy songs, plenty of square dance tunes and other instrumental numbers, country blues, comic and sentimental songs of the south, and perhaps an original or two. The two are likely to also throw in a cowboy poem and some of Pop's lariat spinning, along with history, folklore and jokelore.
Tickets will also be available the day of the concert at the door for $15. Doors will open at 6:45 P.M.