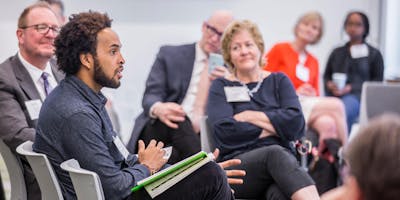 Head, Heart and Hands of Equity: Equity & Inclusion Training
Join this 4-hour workshop at the YMCA Equity Innovation Center. Choose one of the four available dates to attend!
The demographics in our communities are changing at a rapid pace.  Within these shifts are differences how each person sees and experiences the world.  Without a greater understanding of who we are personally, how we might be seen, and how others experience the world we will be left with transactional experiences -  at best - that fail to contribute to  thriving environments for people to live, work, and play. Head, Heart, and Hands for Equity will provide the opportunities for individuals to explore information and experiences as they move in their personal journey to understand the world they are designing for, the people they work with, and the opportunities that can be created.
This training, led by the YMCA's Equity Innovation Center  staff, aims to provide our members with a baseline understanding of and vocabulary for equity and inclusion concepts. Join IIDA Northland Chapter to learn and establish a baseline to help us move forward in active work to grow racial diversity in our field. 

This workshop has been approved for .4 IDCEC credits.


Photograph courtesy of the YMCA of the Greater Twin Cities
---

Agenda for all dates:
7:30am - 8:00am   - Registration open + Continental Breakfast
8:00am - 12:00pm - Program
This workshop is seeking IDCEC credit, application pending