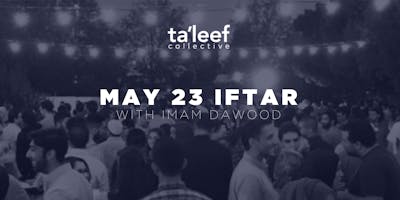 Ta'leef Thursday Night Iftar
Join us to break fast together and share a beautiful night in reflections, wisdom, and deepening our love for Allah and each other at our community Iftar! We're honored to have Imam Dawood as our guest speaker for this year's Thursday Night Iftar. 
GREEN IFTAR: In an effort to be more environmentally friendly, we are asking that everyone bring their own water bottle to reduce waste. 
Iftar will be followed by Taraweeh (night prayers) with Mahdy Amine after Isha (roughly 10pm).

Sold out? Send an email to info@taleefcollective.org to inquire about tickets at the door.
*NOTE: Due to forecasted rain, this event was rescheduled from May 16th with Hisham Mahmoud to May 23rd with Imam Dawood*