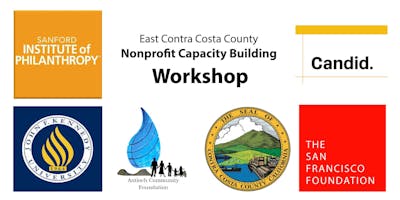 East Contra Costa County Nonprofit Capacity Building Workshop
Supervisors Diane Burgis (District III) and Federal Glover (District V)
in partnership with The Sanford Institute of Philanthropy, John F. Kennedy University, The San Francisco Foundation,  Candid (an innovative merger of The Foundation Center and GuideStar) and Antioch Community Foundation
are pleased to invite you to their
East Contra Costa County Nonprofit Capacity Building Workshop 
May 30, 2019, 9am to 4pm
May 31, 2019, 9am to 3pm
Antioch Community Center
4703 Lone Tree Way, Antioch
Nonprofits in East Contra Costa County are working diligently to respond to community challenges and advancing many causes that create opportunity for all. In an era of growing need and shrinking government resources, nonprofits are being asked to do more with less.
Supervisors Diane Burgis and Federal Glover in partnership with the Sanford Institute of Philanthropy, John F. Kennedy University, The San Francisco Foundation, Antioch Community Foundation and Candid, invite you to partner with us in supporting your organizational capacity building needs, specifically in time for Census 2020!
Participants will engage in a two-day training workshop inclusive of facilitated needs assessment combined with state-of-the-art training in fundraising to help organizations be more successful in outreach, grants management, and donor cultivation. Participants will also engage in an interactive, cross-organizational conversation about strategies for building a diverse team of leaders and volunteers and for reaching hard to serve and underserved populations in East Contra Costa.
The stakes are high for East Contra Costa and this calls for a focused, more strategic collaborative approach to capacity building. You are invited to join and be part of an exciting effort.
What to Expect
Day One, we will hear from leaders on the state of the U.S. Census 2020, followed by a panel of nonprofit leaders on lessons and opportunities for your organization to help ensure a successful Census 2020, concluding with a regional assessment conversation to help develop short and long-term capacity building priorities.
Day Two will focus on fundraising capacity building skills provided by Candid and the Sanford Institute of Philanthropy that will provide considerable value for your organization's sustainability.
Space is limited. Please RSVP by no later than May 10, 2019 to save your spot.