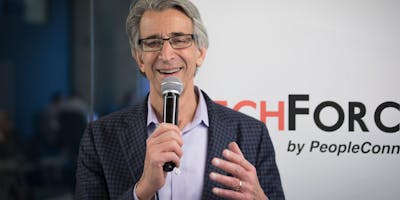 PitchForce: San Francisco
WHAT?
PitchForce is a monthly event for early stage high-tech startup entrepreneurs to get a chance to deliver a 4-minute elevator pitch to a panel of seasoned angel investors.
WHO? 
This monthly event is sponsored by PeopleConnect, a 18-year-old high tech startup recruiting firm. Producing the event is Max Shapiro, CEO of PeopleConnect, who has been hosting monthly pitch events for the past 8 years, including PitchForce (pitch-force.com).
HOW?
Presenters are chosen on a first come first served basis, and only 10 startup entrepreneurs are allowed to pitch at each event. YOU MUST SIGN UP ONLINE, AND WE ENCOURAGE YOU TO DO SO ASAP. SELECT THE 'Pitching Entrepreneurs' TICKET TYPE TO REGISTER! Presenters will receive instructions on the 8 key points to cover in your pitch, as well as a sample pitch.
Pitches will be reviewed by the SF PitchForce team prior to the event, to make sure that you are delivering a message that will resonate with the panel. In addition, please send your 4-minute pitch deck and 1-minute elevator manuscript for our review to Sam at Sam@peopleconnectstaffing.com. For more information about the event and how it is structured, please click this link.