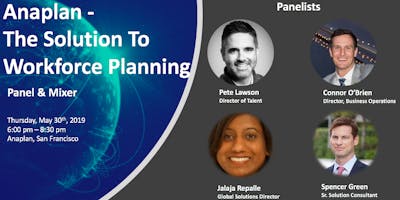 Anaplan - The Solution to Workforce Planning - Panel & Mixer
This event is a networking event & demo/ discussion of the Anaplan Workforce Planning platform. We will be nerding out on all things within the Talent Acquisition and HR world as it relates to connected planning and how we, as Talent leaders can best leverage technologies like Anaplan to collaboratively build forward-thinking talent strategies that drive the future of our organizations.
Anaplan has a Solution to Workforce Planning Solution and we would love to show everyone how we are leveraging it internally and really open the discussion on all things WF Planning. This event is also meant to drive and foster more open conversations on all things reporting and planning and what matters most to you as leaders in the Talent Acquisition and HR space. 
The event will be hosted at the Anaplan office and will include drinks, snacks, small bites and a full demo of the Anaplan Workforce Planning platform. Please feel free to bring a guest or pass along this invite to those in your network who might have an interest in this discussion.
Here's The Agenda:
6:00-6:45  - Doors Open, Networking
6:45-7:50 - Keynote, Demo Walkthrough
7:50-8:15 - Q/A 
8:15-8:30 - Networking/ Closing