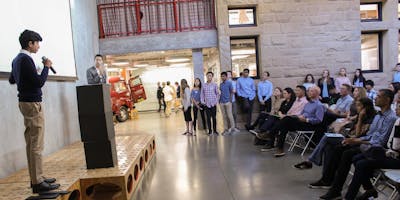 Invention Studio Demo Day 2019
Invention Studio is hosting its annual Demo Day! This event will feature all five our our first-year invention teams, as well as our second-year teams who have made great progress in manufacturing, patenting, and community outreach. We have invited a number of professionals and experts in the industry to attend the event and give feedback/funding on our teams' inventions. We hope to see you there!
Questions? Contact Madeline (madpark@nuevaschool.org) or Justin (juszhan@nuevaschool.org) for more details! Or, visit our website: https://www.nuevaschool.org/student-experience/upper-school/clubs/nueva-invention-studio 
More information on our organization:
Invention Studio teams design for a diverse range of needs by reaching out to a variety of users with unique daily challenges. This year, we started five new teams designing for Parkinson's disease, multiple sclerosis, mental illness, drowsy driving, and English language learners. 
Our second-year teams, Stria and Unwind, have had great success winning nationwide awards such as SXSWEDU's Student Startup Competition and the Jacobsen Institute's Innovator Competition, filing patents, and creating lasting connections with the communities they are designing for.
Invention Studio has two main goals. First, we hope to use human-centered design and engineering to make a real impact in our communities. Second, we hope to empower young student inventors of all backgrounds and to give them the confidence and skills needed to change the world. We have recruited many underrepresented groups in engineering—more than half of our members are female and approximately 70% identify as students of color. We hope that accomplishing these two goals will strive to make a more equitable, healthy, and compassionate world.