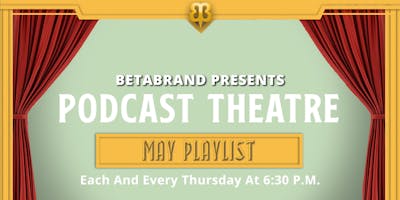 Betabrand Podcast Theatre: Midlife Mixtape
Betabrand Podcast Theatre Presents Midlife Mixtape!
Every Thursday night, we turn our legendary retail store on Valencia Street into a Live Podcast Theatre. Join us to experience your favorite podcast In Real Life! 
**Tickets required for entry. Must be 18 or older.
About the Show
Join Nancy for a conversation with her guest Joe Garofoli, the San Francisco Chronicle's senior political writer, who covers national and state politics. They'll talk about his first concert, what being a GenXer at midlife means when it comes to working in the fast-paced world of political journalism, what's easier/harder/different than he expected about being in this middle phase of life, and what piece of advice he'd give his younger self. There will be plenty of audience participation and as a special treat - live music from the Bay Area songwriter behind the Midlife Mixtape theme music, M. The Heir Apparent (http://thisismxoxo.com/) who recently opened for Matt Nathanson on tour!
Storytellers
Nancy Davis Kho is an Oakland writer whose work has appeared in the San Francisco Chronicle, Washington Post, and numerous anthologies. She's a member of US Weekly Magazine's Fashion Police, and Oakland's Literary Death Match champ. She covers the years between being hip and breaking one at MidlifeMixtape.com and on the Midlife Mixtape Podcast. Nancy's book THE THANK-YOU PROJECT: Cultivating Happiness One Letter of Gratitude at a Time is forthcoming from Running Press in October 2019.
Joe Garofoli is the San Francisco Chronicle's senior political writer, covering national and state politics. He has worked at The Chronicle since 2000 and in Bay Area journalism since 1992, when he left the Milwaukee Journal. He is the host of "It's All Political," The Chronicle's political podcast. Catch it here: bit.ly/2LSAUjA
About the Podcast
The Midlife Mixtape Podcast celebrates midlife with humor, heart, and a really good beat. In each episode, writer Nancy Davis Kho of MidlifeMixtape.com interviews GenXers and icons of Generation X about how they're thriving in the years between being hip and breaking one.