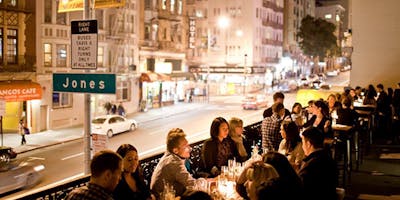 7th Annual Acronym Happy Hour with APA, ITE, ITS-YPG, WTS & YPT
Fellow APA, WTS, ITE, ITS-YPG & YPT friends,
It's that time again for all of your favorite Bay Area transportation and planning organizations to reunite in one place on one night. Join us as we toast to complete streets, shared use mobility, our collective transport wonkiness, and more. Bring your colleagues, clients, friends etc.
Complimentary appetizers will be provided by our sponsoring organizations. Drinks will be available for purchase, however, please note that Jones accepts cash only. You need-not be a paid member of any of our organizations to attend, but if you would like to become a member or learn more about us in advance:
Northern California Chapter of the American Planning Association
www.norcalapa.org


The American Planning Association, California Chapter Northern, offers membership to city and regional planners and associated professionals that primarily live or work in the western Klamath and Pacific Coast Ranges regions.
Institute of Transportation Engineers - Bay Area Section
www.sfbayite.org

The Institute of Transportation Engineers (ITE) is an international professional society of transportation engineers, planners, and other professionals that serves as a gateway to knowledge and advancement in transportation through meetings, seminars, and publications.
The Intelligent Transportation Society of California (ITSCA) Young Professionals Group (YPG) Bay Area chapter was founded in 2018. Our mission is to foster a community of future leaders in transportation technology by providing a forum for continued education, knowledge sharing, and professional development for new transportation professionals. 
Founded in 1977, WTS is an international organization dedicated to the professional advancement of women in transportation. Boasting more than 5,000 members--both men and women--WTS is helping women find opportunity and recognition in the transportation industry.
Young Professionals in Transportation SF Bay
www.yptsfbay.org


The San Francisco Bay Area chapter of Young Professionals in Transportation (YPT SF Bay) was created in 2011 to enhance professional development among young transportation practitioners and future leaders in the Bay Area. Our mission is to cultivate an accessible community of young professionals passionate about transportation. Join us for professional development, fellowship opportunities, and networking.
We would like to thank our sponsors who make events like these possible!