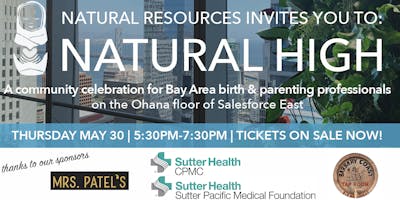 Natural High! A Celebration of Birth & Parenting Professionals
In recognition of your contribution to the birth and early parenting community and your support of Natural Resources, you are invited to a special gathering on the "Ohana Floor" - of  Salesforce's East Tower.
This event is for professionals involved in birth and early childhood: perinatal professionals, doulas, midwives, OBs, nurses, yoga instructors, childbirth educators, lactation conslutants, parenting educators, pediatricians ... If you are involved in birth and early parenting, you don't want to miss this - this is your people, all in one room! 
Join us for music, appetizers, wine and beer, and views for days!
Your dedication to improving birth and parenting outcomes is an inspiration. Join us in celebrating YOU! We are also excited to share a special announcement with our beloved birth community. 
PLEASE NOTE: Ticket sales END on Monday, May 27!!! This is for security reasons at the building. There will be no ticket sales at the event. Please don't wait until the last minute or we won't be able to welcome you to the party!