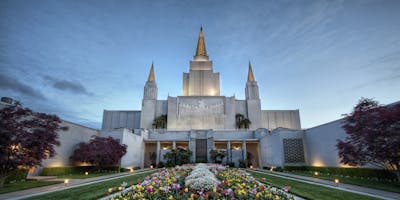 Oakland California Temple Open House, 30 May 2019
RESERVATIONS


Guest limit is 15 per reservation. To reserve more than 15 tickets, call 855-537-2000.


Please order a ticket for each individual who will be attending the open house event. The quantity ordered refers to the number of visitors, not the number of vehicles.


A valid e-mail account is required to confirm your reservation.


TOURS


All ages are welcome.


The open house includes a short video and walking tour.


The tour will last approximately one hour.


Present a copy of the reservation received by email at the entrance.


The tour begins at the Oakland Temple 'Interstake Center' auditorium main entrance and will last approximately one hour.


ACCESSIBILITY


The temple is wheelchair accessible.


Service animals are not permitted in the temple.


PARKING


Parking will be limited, please use public transportation or carpool.




Please report to the lot indicated on the General Admission ticket within 60 minutes of tour time for preferred access to that lot.


Access to this lot is on a "space available" basis and is not a guarantee of lot parking. Please carpool and arrive early.


Click the image below to see a larger version of the map.