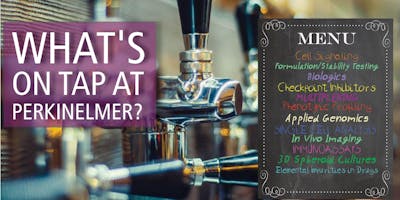 Posters & Pints at Cambridge Brewing Company
Join industry peers and PerkinElmer scientists for a poster and networking event to keep on top of the next innovations and hottest new targets in drug discovery and development at the Cambridge Brewing Company.
What's on Tap?
View our latest posters
Share ideas and discuss challenges with industry experts
Strengthen professional relationships
A sampling of our poster selections:


Rapid, No-wash Measurement of Immune Checkpoint Molecules Expression Induced by Interaction with PBMCs in Breast and Cervical Cancer Cell Models


Blood Pharmacokinetics Imaging by Non-invasive Heart Fluorescence Tomography and Application to Kidney Glomerular Filtration Rate Assessment


Single Cell Cisplatin and other Metal Measurements by ICP-MS


Testing of Elemental Impurities in Pharmaceutical Products Following USP 232 & 233


Rapid Homogeneous Detection Systems for Cellular Signaling Pathways


Detection of AAV Structure via CE-SDS: Capsid Proteins and Nucleic Acid


3D Live Cell Organoid HCS Assay Development & Validation


This is a private, invitation only event. Space is limited. Early registration is advised.