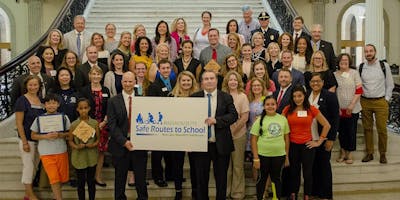 2019 Safe Routes to School Awards
Join us at the 2019 Massachusetts Safe Routes to School (SRTS) Awards Ceremony to celebrate schools, community collaborators, and individual stakeholders who foster strong SRTS initiatives in their local communities.
In addition to recognizing SRTS partner schools with Basic, Bronze, Silver, or Gold achievement certificates, SRTS will present the following awards to schools or communities that have gone above and beyond:


Exemplary Program (By Region)


Community Collaboration Award


Nikki Tishler Memorial Award


A continental breakfast will be served. Please note that while parking garages and metered street parking spots are located near the State House, parking is often difficult. We encourage all guests to take public transportation, if possible.
Additionally, due to limited venue spacing and seating, reservations will be given on a first come, first served basis. Each school that registers to attend will receive a maximum of two tickets, to start. All remaining ticket requests will be added to our waiting list. Please contact Emily.Budzynkiewicz@dot.state.ma.us with inquiries about additional tickets for your school.