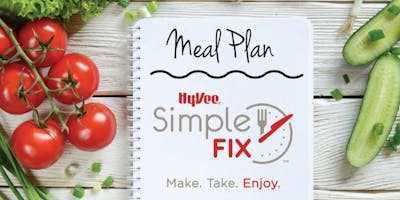 Simple Fix: Grilling
Simple Fix is a meal prep workshop for you to prepare freezer meals for your family.  We shop, you prep, we clean up! 
During this workshop, you will prepare 6 meals, serving either 2 people or 4 people each.  Please indicate through your ticket purchase for the serving size that you would like.
Meals include:


Lemon Pepper Chicken


Caribbean Jerk Turkey Cutlets


Rosemary Burgers


Pineapple Ginger Flank Steak


Green Chile Burgers


Garlic Balsamic Pork Kabobs


Cost of the workshop is $60 or $120, which includes groceries, take home bags, equiptment, space for workshop and clean up!  Register online through Eventbrite or at the New Hope Hy-Vee Service Counter.
Questions or dietary restrictions - contact your Hy-Vee Dietitian, Caity (cnienow@hy-vee.com or 763-531-7464)