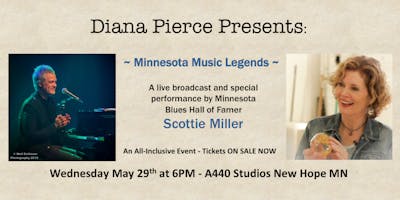 Diana Pierce Presents: Minnesota Music Legends Featuring Scottie Miller
Diana Pierce Presents: Minnesota Music Legends
Featuring Minnesota Blues Hall of Famer Scottie Miller, LIVE at A440 Studios
Ticket includes complimentary wine, beer, non alchoholic beverages and appetizers.
You also have a chance to win a Yamaha PSR E363 keyboard compliments of Groth Music! A $350 value!

How do you define the blues? "The blues is not just a traditional American culture or music style, it's
a feeling. It's soul. The one that's inside you and inside all people."

In a premiere LIVE event at A440 Studios, Minnesota News Hall of Famer, Diana Pierce, will
interview Minnesota Blues Hall of Famer Scottie Miller in an intimate setting at A440 Studios.
You don't want to miss this extraordinary evening that starts with a 30-minute LIVE interview on
stage where Scottie and Diana will talk about how he got the nickname "Bones," who his
musical influences are, and how he brings the elements of blues, jazz, R&B, funk and even
country all together on stage. Once the LIVE program is over, Scottie Miller continues with his
performance in an exclusive "After Show."

This is a ticketed event so we ask that you please purchase tickets in advance. Door opens at 6PM, please arrive before 7PM as seating will be suspended during the 30 minute broadcast portion of the show.
Seating is very limited and this event may sell out. An advance ticket purchase will guarantee a seat. Any unsold seats will be available at the door for $50, cash only please.
If you have questions, please call A440 Studios at 855-851-A440.

Sponsored by Groth Music and Chankaska Creek Winery