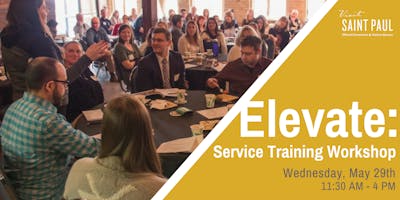 Elevate: Service Training Workshop
Creating positive customer experiences means not only offering things to do and see, and places to stay, dine and shop – it also is about creating lasting memories. It's these experiences that generate positive word-of-mouth and return visits – and quality customer service is critical. A genuine interaction can elevate a guest's experience of not only individual establishments but of the city as a whole.
Today's customers have high expectations, are aware of their choices, and are increasingly diverse. Our visitors come from not only Minnesota, but across the country and even the world, and they expect to be served well by businesses and communities who understand their needs.
Join us for this half-day training led by the University of Minnesota Tourism Center, for you and your team to focus on building the skills and knowledge needed to create positive customer experiences. Seating is limited to maximize the attendee experience, so be sure to secure yours today! 
After participation in the program participants will:



Understand how culture - theirs and the guest's - affects the service experience




Learn how to manage their own attitude




Develop skills to identify and respond to customer needs




Gain strategies to create positive customer experiences




Create a personal action plan to put new skills to work



Your registration includes buffet-style lunch from our sponsoring hosts, Urban Growler Brewing Company, and 4 hours of workshop training.



11:30am - 12:00pm - Registration and lunch




12:00 - 4:00pm - Elevate: Service Training Workshop




4:00 - 5:00pm - We invite you to stay for an optional networking happy hour (cash bar)



Ticket sales end Monday, May 27th at 5pm. This event is for Visit Saint Paul Members only. You can learn more about membership here.