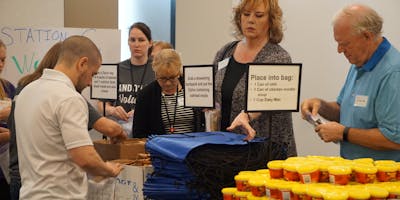 Feeding Who's Hungry 2019 - Volunteer Project
Did you know that the summer months are especially tough for families in need? Parents struggle to fill the gap created by meals children receive during the school year. Join volunteers to fight hunger by assembling a variety of kits, including snack packs, weekend meal kits, pantry staples, and kitchen utensils.

There will be three volunteer shifts throughout the day, each accommodating up to 200 volunteers. Make a difference in the lives of others and learn more about how hunger impacts our community. Group and individual volunteers welcome.



8:30–10:00 a.m.




11:00 a.m.–12:30 p.m.




2:30–4 p.m.



Our goal for this event is to support 6,000 hungry families in the Twin Cities. Your $36 donation provides food and kitchen essentials for 10 families in need. Please consider making a gift.