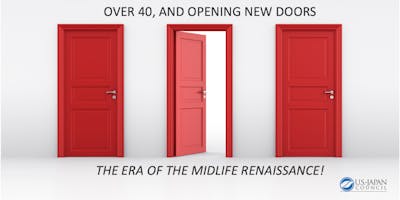 Over 40 and Our 'Midlife Renaissance' Masterpieces
The U.S.-Japan Council is thrilled to host a panel addressing life and career after 40, which we are dubbing "O40".  We will hear our extraordinary guests share their inspiring stories of tapping into a new passion to propel exciting and new career transformations.   Refreshments will be served.
Our Panelists:
Sandy Shirai, Vice Chairman, US Technology, Media and Telco Leader, Deloitte
Patti Lee-Hoffmann, Co-founder, Flutter EyeWear
Aki Ohashi, Director of Business Development, PARC
and moderated by Rika Nakazawa, CEO and Founder, BoardSeatMeet, Inc.
Join us on May 29th for an inspiring evening to celebrate the O40 community in Silicon Valley. Come and discover our unchartered territory together!
     6:00PM Doors Open & Refreshments
     6:30PM Panel Session
     7:30PM Q&A and Networking
Detailed Bios:
Patti Lee-Hoffmann co-founded and grew the $130 million healthcare consulting firm Triage Consulting Group to one of the largest in the industry - perennially named best places to work in America. Her newest venture Flutter Eyewear solves the frustration of finding reading glasses that are both stylish and functional via a virtual fit technology. Considered the "Manolo Blahniks of reading glasses," Flutter Eyewear has won fans in Oprah and fashion insiders such as Nina Garcia. A portion of every sale goes to train service dogs for people with impaired senses to help them fully participate and navigate daily life. 
Sandy Shirai joined Deloitte in 1989 and currently serves as Vice Chairman, Technology, Media and Telecommunications (TMT) leader. Under Sandy's leadership, TMT is the fastest growing practice and currently consists of 9,500 professionals generating $1.9 billion in annual revenue. Previously, Sandy served on the Consulting Executive Committee and elected to the Deloitte LLP Board of Directors and served as chairman of the Strategic Investments Committee, and member of the Governance, Partner Earnings, Risk, and Finance Committees. For 11 consecutive years, Sandy has been a guest lecturer at Stanford University. 
Aki Ohashi is PARC's Director of Business Development responsible for developing and managing client relationships in the Japanese market.  Aki works with all of PARC's corporate clients in Japan, as well as our Japanese university partners and governmental organizations. Prior to joining PARC, Aki was a Partner with the Venture Capital Investment Division of ngi group, inc. (formerly Netage, Inc.) in Japan, where he led investments in, and served on the boards of, Internet-related startups in both the U.S. and Japan.   Aki earned his MBA from Carnegie Mellon University and a Bachelor of Architecture and Bachelor of Science in Architectural Engineering from the University of Texas at Austin. While Aki was born and raised in the United States, he has spent 4 years living and working in Japan and communicates with clients in both English and Japanese.