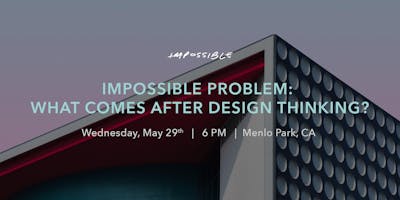 Impossible problem - what comes after design thinking?
Join us at Impossible for our next meetup. Impossible is a global innovation agency where like-minded people such as designers, developers, social activists and problem solvers are united by common vision and values: honesty, openness, freedom, social responsibility and transparency. 
In this meetup, we will have Wesley Yun, former Sr. Manager of  Product Design at Uber and Director of User Experience at GoPro, talk about the future of design thinking. Wes has been a design leader for brands such as GoPro, Lytro, Samsung, Motorola, RIM, Palm, Helio, Nissan/Infiniti, Billboard, Marvel, Movielink, GM BuyPower, Sony, Kenneth Cole, Nautica, Sears and many more.
As the world moves forward into adopting new technology and evolving to 3D printing, augmented reality, artificial intelligence and health tracking devices to name a few, human-centered design faces a series of problems that are not easy to solve. What do we need to learn to become designers in this complex era? Is design thinking broken? How do we fix it? How is design changing? What comes after design thinking?
For many years design thinking has been great in solving many problems of today through minimum viable products (MVP's), journey maps, etc. how do we integrate this in designing for a distant future? 
We will dive into these and many other questions on Wednesday, May 29. 
Event agenda
6:00 pm - Registration and networking (drinks & appetizers will be served)
6:30 pm - What comes after design thinking? 
7:00 pm - Q&A
7:30 pm - Networking 
The entrance door is located behind Santa Cruz Ave. where the parking lot is located next door to Dolma Carpet store there is a small door (Suite B) with the name of Impossible.