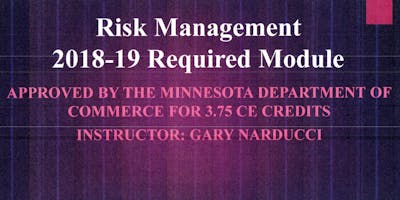 Risk Management 2018-19 Required Module Continuing Education
This is 2018-19 required Continuing Education Module. The student will receive 3.75 CE credits for the course. A test will be given and the end of the event in order to receive CE credits. Items covered will include the following:
The attendee will learn about the required disclosures. The agent will learn the important levels of disclosure regarding agency and what qualifies or does not qualify as material facts. He/she will learn an agent's financial responsibilities to customers and clients. The agents will understand the obligations of disclosure after a property inspection. What an agent should or should not do with the results of an inspection. An agent must understand more disclosure is better than less. When in doubt disclose and the consequences of inadequate disclosure. He/she will understand their obligations regarding Regulation Z as it pertains to real estate advertising. The agent will also learn how to create an archive of communications between agent and clients. An agent must disclose how much compensation he/she is receiving and who is responsible for that compensation. He/she must also disclose if they have a financial interest in a real estate transaction other than a commission. To avoid negative consequences the agent should keep accurate records of all communications between prospect, customers and clients. At the end of the presentation, there will a review and testing of all items covered.