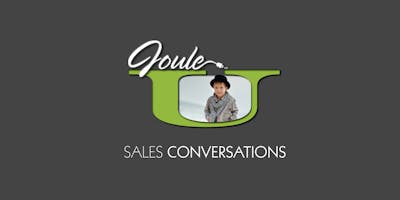 JOULE U . Show Me the Clients . SALES CONVERSATIONS
Joule U .  Show Me the Clients . SALES CONVERSATIONS


Tuesday . May 28 . 10:00A-11:30A
Bringing together the art and science of sales so you can create an amazing buying experience!
Are you an entrepreneur who has to sell your services to grow and yet you hate selling? Does if feel like you have to compromise your values to be good at sales? You are not alone, so many people who start their own business are confronted by the awkward sales conversation. It's just a conversation and yet it is so hard to be effective.
Learn —



Why people buy and don't buy from you






W

hat motivates people to buy on the spot



Techniques to increase your confidence



Cost: Complimentary
Guest Speaker: Jason Jones—Coach and Founder of The Coaching Hour is certified by the Royal Roads University. He hosted the Jason Jones Show on WCCO Radio and co-founded The Entertainment Experience now serving the UK, Australia, Canada and the U.S. His commitment is to offer coaching and training that leaves the client fully clear on execution with business savvy for life no matter how big an enterprise they build. 
Hosted by Joule MB2MB 
Hosted at Nicholson WIN Center . 3rd Floor 
George Latimer Central Library .  Saint Paul . 90 W 4th St.