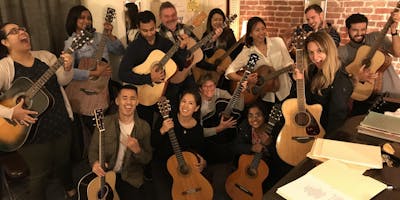 Guitar Level 1 Summer 2019: an 8-Week Workshop for people excited to play guitar!
Please note to use the below day and times - the Eventbrite heading doesn't account for that there are 2 class day/times ofered. 
Beginning Guitar Level 1 Classes
The Level 1 classes are for absolute beginners, we start from scratch!  If you know a few chords and can change between them, please check out the level 2 class!  If you are not sure, email or call me!

There are two Level 1 classes, one on Tuesdays and one on Wednesdays - they're the same class so pick the day/time that works best for your schedule. 


*No Classes the week of July 4th
Tuesdays 6pm-7pm
May 28 - July 23
or
Wednesdays 7:30pm-8:30pm
May 29 - July 24

Playing guitar is fun as well as a great source of relaxation and self-discovery that can enhance your life on many levels. The group class environment is a fantastic way for you to learn as well as meet new people to play with. We encourage and inspire each other!

You will learn and understand:
• the parts of the guitar
• how to tune the guitar
• proper sitting position and how to hold the guitar
• approx 8 chords over 8 weeks while learning 8 songs to practice them with!
• how to play "in time" and change between chords

• help and guidance with singing and playing
• a dynamic group experience (lots of cool people!)

Each lesson is tailored to create a motivating atmosphere where you can experience your progress while learning to play the songs that you love!

*Note: Satisfaction is Guaranteed. 
If you're nervous about committing to 8 weeks, you are welcome to try the first class for the single class rate ($45) to see if the level feels like a good fit.

*Refund Policy:  
Once you have committed to the full session, there are no refunds. 
Every class has its own password-protected online course created just for you! 
After each lesson I post a video that goes over the whole lesson, as well as the in-class handouts which are available for download. It's inevitable that people travel, get sick, have scheduling conflicts. When you miss a class or classes, the website enables you to keep up.
For more information:
 5-Star Rating on Yelp and  video testimonials! 
If you have any questions, please email Carrie or call her at 415-305-8494
sfguitarlessons.com