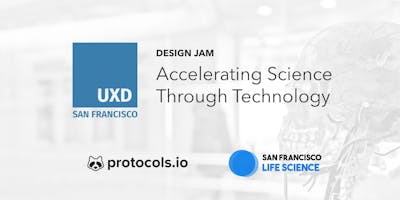 Design Jam: Accelerating Science Through Technology
Join us in Downtown Berkeley for a Design Jam: Accelerating Science Through Technology.

What is a Design Jam?
A Design Jam is a mini-hackathon where a challenge/prompt is presented in the beginning of the event. The challenge will be related to solving problems related to the advancement of science. Attendees will be getting in groups of 5-6 and will have one hour to come up with an innovative solution to this problem.

Accelerating Science Through Technology
With the digital information age, we are given many opportunities to access information. Scientific and technology advances in communication and the way we share knowledge is growing fast. This event will allow attendees to focus on these shifts in industry.

This event will be hosting designers, scientists, and anyone interested in science and technology. No prior experience required, all are welcome!
About protocols.io
protocols.io was conceived in 2012 by geneticist Lenny Teytelman and computer scientist Alexei Stoliartchouk to facilitate science communication and rapid sharing of knowledge. The protocols.io platform is an open access service for academic and industry scientists to record and share detailed up-to-date protocols for research. It is free to read and free to publish and provides an open access hub for scientists to communicate improvements and corrections to science methods. The company is located in Berkeley, California.
Learn more at www.protocols.io