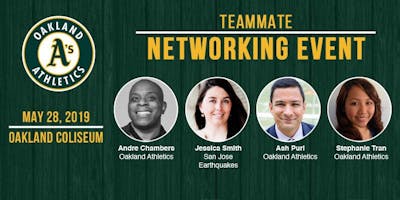 Oakland Athletics Teammate Networking Event Presented by TeamWork Online
WHAT YOU NEED TO KNOW -
This TeamWork Online Teammate Networking Event gives you a chance to meet face-to-face with key Oakland Athletics senior level and hiring executives. If you want to learn how to get a job in the industry and build your network of contacts in the industry, this event is an intimate relaxed environment to do so. Executives will share their stories and want to hear your story. Every attendee will also be provided a ticket to watch the Oakland Athletics vs. Los Angeles Angels - your ticket is included with your registration. Bring plenty of business cards to pass out to all the people that you will meet! SPACE IS LIMITED.
THE WHO - Executives scheduled to attend:

Andre Chambers
Vice President, People Operations
Oakland Athletics
Ash Puri
Vice President, Sales, Strategy & Business Operations
Oakland Athletics
Jessica Smith
Vice President, Sponsorship
San Jose Earthquakes
Kashmira Bhathena
Vice President, Finance
San Jose Earthquakes
Eddie Eixenberger
Director, Business Development & The Core
Oakland Athletics

Stephanie Gaywood
Director of Community Engagement 
Oakland Athletics
Peggy O'Halloran
Director, Human Resources
San Jose Earthquakes
Suzi Alvarez
Director, New Ballpark Sales
Oakland Athletics

Stephanie Tran
Director, Special Events
Oakland Athletics

Josh Feinberg
Director, Group Sales & Hospitality
Oakland Athletics
***Executive attendee list to be updated regularly
TICKETS - How do I get them? Where are the seats?
All attendees are provided a ticket to the Oakland Athletics vs Los Angeles Angels game following the event. Tickets will be given to each attendee at registration, prior to the beginning of the event.
Refunds, Exchanges and Cancellations:
All sales are final. Exchanges will not be provided of any kind. Should an event be cancelled or postponed due to weather or other circumstances, TeamWork Online will notify attendees in writing and do everything within its power to provide an acceptable remedy.