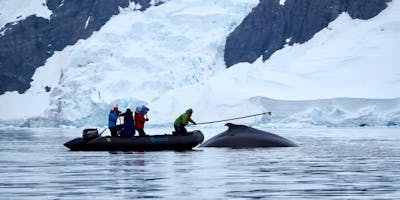 Michelle Modest, "Southern Pacific Humpback Whale Migratory Routes"
Join American Cetacean Society, San Francisco Bay Chapter for a fascinating presentation by Michelle Modest, UC Santa Cruz Ph.D. candidate. 
Southern hemisphere humpback whale populations spend a large portion of the year breeding in tropical waters and migrating up to 11,706 miles between this region and their summer feeding grounds in the Antarctic. Despite this impressive feat, minimal information is known about their migratory journeys. Michelle will share the findings of the first study to examine Southern Pacific humpback whale migratory routes from foraging to breeding grounds and will explain how this information will be used to create a comprehensive overview of migratory behaviors and characteristics.
--------------------------------------
Admission is free. REGISTRATION IS RECOMMENDED as we expect a high level of interest!  We'll reserve seats for Eventbrite registrants.
Donations are encouraged, $10 general, $5 students. Donations support education programs that build appreciation for whales, dolphins, and porpoises, and research grants which help the next generation of marine scientists deepen understanding of threats to cetaceans and find solutions to protect and conserve them.
photo (c) Ken Sexton