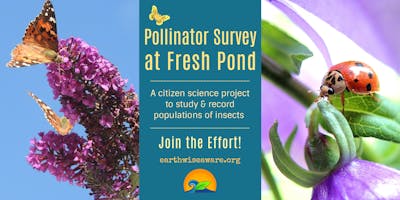 Pollinator (& Insect) Survey at Fresh Pond
Join this incredible opportunity to connect with Nature, and to help the conservation of our urban wildlife habitats. We observe and collect information about pollinators (and more generally arthropods). We then feed that info to different global databases that are tracking species richness, population abundance, and phenophases. 
Collecting such data is an important scientific effort that helps better understand the collapse of insect populations, that is being been observed throughout the world. That kind of data is critical to understand the implications on avian populations, other fauna at large, and on our own species (e.g., food security). A better understanding will lead to better societal actions and policies.
We will also develop together a virtual guide to the insects and wildlife of Fresh Pond.
Age: Adults (16+) & Seniors.
Rendezvous: At the entrance to the Lusitania woods, at the intersection of the Regional bike path connection and the entrance to the reservation across Wheeler street (see Map).

ⓘ Details & Registration: This is an RSVP event. We need your registration so that we can communicate with you about what to wear and what to bring, as well as to be able to inform you if there is any change plan due to weather and other reasons. Thanks and register today!

✉ For any question, you can contact Claire at citizenscience@earthwiseaware.org
ⓘ About our EwA at Fresh Pond Program » https://www.earthwiseaware.org/ewa-at-fresh-pond/
$ Free with a value: This event is free, still... donations to EwA are always welcomed! » Donate at https://www.earthwiseaware.org/donate

#nature #ecology #biodiversity #phenology #conservation #citizenScience #science