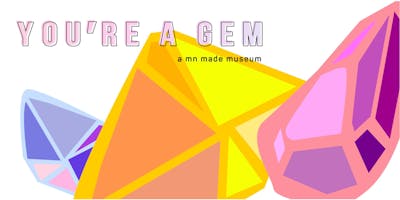 You're A Gem Museum
You're a gem is an instagrammable museum, curated by Larissa Loden and created by a team of MN designers and artists. The space is a collection of art, installation and fun stuff for you to get yourself lost in. Take some selfies, enjoy yourself and become a part of the art, because you, after all, are a gem and it's where you belong.
Each adult ticket comes with admission to the gallery, a free limited edition tote bag printed locally by the Bitter Buffalo a custom pin and rock candy!
As active members of the Northeast Minneapolis Artist Community, we are proud to be able to say that we will be donating all proceeds from these events ticket sales directly to NEMAA. NEMAA is a non-profit organization that provides community assistance for artists and makers in NE Minneapolis. NEMAA is responsible for coordinating the largest annual open studio tour in the US, Art-A-Whirl.
The gallery features work by Girl Friday, Ashley Mary, Araya Jensen, Kevin Kramp, Celina Kane, Pink Linen and has been designed and curated by the team at Larissa Loden Jewelry.
Our sponsors include Sherwin Williams, Bent Brestillery, and Leonetti Confetti, Chowgirls and Selfie & Co., and Cookie Cart.