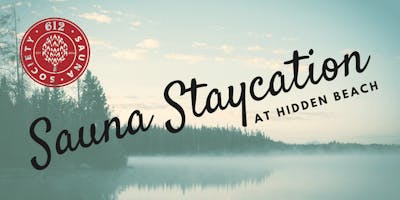 Memorial Weekend Sauna Staycation Pop-up at Hidden Beach
Take a load off and sauna with us at Hidden Beach during our pop-up event this Memorial Weekend! A divine nature setting like this allows the option for attendees to enjoy a cool down plunge into Cedar Lake between hot rounds (completely optional). Who could ask for more?!
This event is suitable for first-timers and seasoned sauna-goers alike! Bring a friend or attend solo (making new friends and having spontaneous and enlightened conversation has been known to occur frequently)!
************************************************
This year's Memorial Weekend sauna schedule will also include two special guided Aufguss sauna steam aromatherapy session with 612 Sauna Society Board President Karoline Lange! Click here to reserve your spots for this special lakeside aufguss experience.
************************************************
SAUNA TIPS



 Your reservation is valid for up to 90 minutes of bench time (where you'll enjoy self-guided hot/cold rounds)


Bathing suit (required) - Water bottle (non-metal) 


Towels (an extra towel for final round and rinse is recommended)


Potluck snacks to share (optional) - Alcohol is not permitted. -


All members and guests are expected to abide by the Sauna Society Code: https://612saunasociety.com/code/


Arrive hydrated so you can enjoy the full benefits of your time on the bench! 




Sauna promotes healthy blood flow by activation of the thermoregulatory system. Practicing full "rounds" will provide the full health benefits. A round consists of 10-20 mins in the hot room (your body will tell you when your time is up), followed by a cool-down period outside. Letting your body cool down between rounds by relaxing and cooling off at the rinse station will increase your circulation and provide the full physical and mental benefit of the experience. A typical sauna session consists of 3-4 rounds of this hot-cold treatment. 



Learn more about the health benefits of Sauna here: https://612saunasociety.com/healthbenefits/

AND MORE 
No refunds. Sorry, we are a small staff and simply do not have the bandwidth at this time to process refunds. We're putting all our bandwidth into creating a superb Sauna experience. We hope you take this as extra incentive to show up and enjoy it! ** The Sauna will be hosted by a trained member of our Stoker Trainee team at all times. If you have further questions about Sauna, The Forge or the 612 Sauna Society, please ask a member of the Hosting Team, or email us at admn@612saunasociety.com.