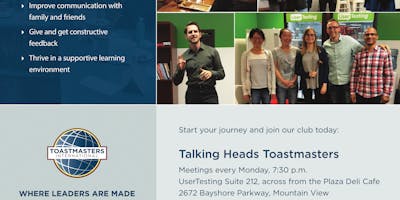 Public Speaking and Leadership - Talking Heads Toastmasters
We are a friendly club filled with people from all walks of life focused on improving public speaking and leadership skills. Come join us on Mondays at 7:30pm at UserTesting's lounge, 2672 Bayshore Pkwy Suite 212.

You are welcome to come as a guest, listen in on our meetings, or try doing some impromptu speaking! It's a great way to make new friends and meet people in a supportive environment.
https://www.meetup.com/Talking-Heads-Toastmasters/
https://www.yelp.com/biz/talking-heads-toastmasters-mountain-view/
Toastmasters has been around for almost a century (founded October 22, 1924). It's helped people like John Young (former U.S. astronaut) and famous Hollywood directors like King Vidor grow in their speaking and leadership abilities.

Club Site: https://4648.toastmastersclubs.org/