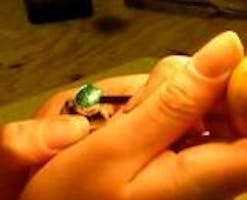 Jewelry Design - The Art of Metalsmithing 02 Class
The Art of Metalsmithing for Jewelry Design
You may be starting out for the first time, or feeling the need to move deeper into the creative world of wearable art or you just may feel the need for a brush up. There is an on-going workshop for you!
METALSMITHING 02 – Intermediate Workshop. Four 3 hour sessions meeting 1x per week. Class Meets: Evenings: 6:00P - 9P Thursdays 
Cost: $195    Materials fee: $25 to the instructor. The 4 session workshop enables you to expand upon basic metalsmithing skills as you learn new techniques in metal fabrication, such as: surface enrichment (i.e., etching; patina, stamping) forging, 3D forms and more. You will employ one or more of these techniques in your personal design utilizing sterling and fine silver (provided through the materials fee).
Please register through Eventbrite and bring the paper registration ticket with you to the first class.
Workshops are limted to 6 students. The minimum enrollment is 1 student. If class enrollment only meets the minimum enrollment, individual instruction will be offered at an increased book rate or tuition will stay the same but the number of hours each session or the number of days will be reduced. Registered students can cancel prior to attending the first session via Eventbrite (according to Eventbrite's policy). For cancellations after attending the first workshop session - the full registration fee will not be returned. Rescheduling is at the discretion of the instructor.
Questions?: Please feel free to contact me via email or by calling the studio: 415.412.6997