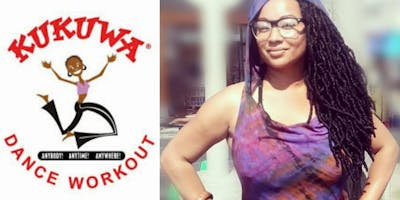 5 week KuKuwa African Dance Fitness Class (Move Your BOOMBSEY!!)
Get ready to explore Africa for 5 weeks without a passport and learn to move muscles you didn't know you had!  KUKUWA® African Dance Workout is not only a workout, its an education and journey one experiences each time they move their boombsey®. We invite you on an African journey through Afro-Beats!!!

You will travel to:
Zimbabwe, Togo, Cape Verde, Ghana, Ivory Coast, Benin, Uganda, Tanzania and Ethiopia!
The workout has you immediately moving your arms, waist, legs and hips to a blend of Central, East, South, West, and North African rhythms. It will take you on an exotic African Expedition pumping FUN through your veins, burning crazy calories and sweating buckets.  KUKUWA® African Dance energy adds living flavor to your workout, nourishing both body and soul. You can burn up to 1000 calories within one 60 min Kukuwa® class. It is open to all dance fitness levels. 
 Every Monday for 5 weeks
Starts May 27- June 24, 2019
7:45pm to 9pm
Only 20 participants will be accepted
Purchse our Early Bird Tickets to save $
1. $12 per class $60 (purchase by May 10, 2019)
2. $13 per class $65 (purchase by May 25, 2019)
If space is still available $15 per class drop in cost
Those who purchase the 5 week will have the opportunity to perform in front of family members/Friends on the 5th week 9pm-9:20pm. Lite refreshments will be served.