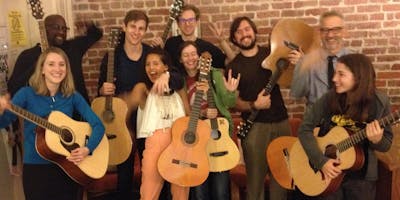 Guitar Level 4 Summer 2019 - an 8 Week Workshop for people excited to play guitar!
Guitar Level 4

Mondays 7:45pm - 8:45pm
May 27 - July 22
*No Classes the week of July 4th
Playing guitar is fun as well as a great source of relaxation and self-discovery that can enhance your life on many levels. The group class environment is a fantastic way for you to learn as well as meet new people to play with. We encourage and inspire each other!
You will learn and understand
• how to use chord embellishments within picking and strumming songs
• how to play more complex songs by developing a knowledge of how music works
• how to use your knowledge creatively
• a deeper understanding of how chords and chord progressions are made (harmony)
• more complex rhythms and fingerpicking
• help and guidance with singing and playing
• a dynamic group experience (lots of cool people!)
Each lesson is tailored to create a motivating atmosphere where you can experience your progress while learning to play the songs that you love!


*Note: Satisfaction is Guaranteed. 
If you're nervous about committing to 8 weeks, you are welcome to try the first class for the single class rate ($45) to see if the level feels like a good fit.  If you're not sure that you're in the right level you can try a class of a different level at no additional cost - this takes the pressure off deciding!


*Refund Policy:  
Once you have committed to the full session, there are no refunds. 
Every class has its own password-protected online course created just for you!  After each lesson I post a video that goes over the whole lesson, as well as the in-class handouts which are available for download. It's inevitable that people travel, get sick, have scheduling conflicts. When you miss a class or classes, the online course enables you to keep up.
For more information:
 5-Star Rating on Yelp and  video testimonials! 
If you have any questions, please email Carrie@sfguitarlessons.com or call her at 415-305-8494
sfguitarlessons.com