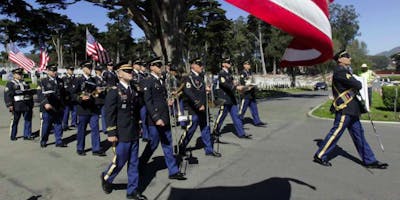 VetsinTech: Memorial Day Grand March @ Presidio SF
VetsinTech invites you to join us as we convene Veteran ERG leaders and members to partake in the Grand March, which is part of the 151st Memorial Day Ceremony. VetsinTech will have a designated spot in the march, and we hope that you will join and represent your organization. 

The march begins at 10:30 a.m. at the Presidio Officers Club and will bring us to the San Francisco National Cemetery -- with a formal ceremony to follow at the cemetery including and address from military dignitaries, and a 21-gun salute. All of this will be followed by a community picnic. 
Schedule of Events:



​Parade with Veterans: 10:30 am – Beginning at Presidio Officers' Club, 50 Moraga Avenue



Formal Ceremony: 11 am to Noon – With Military Dignitaries, Veteran Speakers, and Live Music. San Francisco National Cemetery at the Presidio



21-Gun Salute: Noon – By the U.S. Army's Pacific Division 75th Training Command.  Pershing Square, Main Post



Community Picnic: Bring a picnic or enjoy food available for purchase. Noon to 2 pm –Main Parade Ground