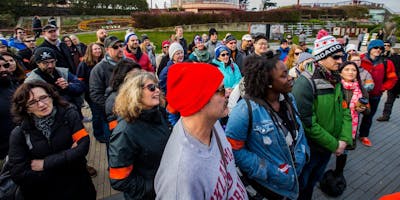 Bridgewatch Memorial Day 2019
On Memorial Day, the nation will remember those killed while serving their country. It is our hope for people to think about another kind of Memorial Day – one honoring those who served in uniform and died by suicide. The first jumper off the Golden Gate Bridge was a WWI veteran in 1937.  According to the most recent Department of Veteran's Affairs report, the total number of suicides is 20.6 every day. Of those, 16.8 were veterans and 3.8 were active-duty servicemembers, guardsmen and reservists. That amounts to 6,132 veterans and 1,387 servicemembers who died by suicide in one year.

The Bridgewatch Angels are seeking compassionate volunteers to engage in suicide prevention on the Golden Gate Bridge. Our primary focus will be to positively engage with people on the bridge who are walking alone, displaying negative body posture, or lingering mid-span.  Often times, a bridge suicide can be stopped by acknowledging someone in distress with a simple smile or hello.  In 2018, there were 187 interventions and 31 suicides.

At 10am,the Bridgewatch Angels trainers will greet you in front of the Bridge Cafe (San Francisco Welcome Center). A mandatory orientation will begin promptly at 10am so we ask you to arrive 30 minutes early. The event will end at 2pm.

Due to the nature of the work, all volunteers must be at least 18 year of age AND registered on Eventbrite. Only ADA certified therapy dogs with supporting documentation are allowed on the Golden Gate Bridge.
Don't forget to click "going" on the Bridgewatch Angels Memorial Day Facebook event page to receive important instructions and helpful tips to plan your day with us. These updates will also be sent to the email address you provide during registration.

We would be very appreciative if you would share our Memorial Day Bridgewatch event on your social media and tell your family and friends.  We love newcomers!
Facebook Event:  https://www.facebook.com/events/578424942651576/

Questions? Email bridgewatchangels@gmail.com.