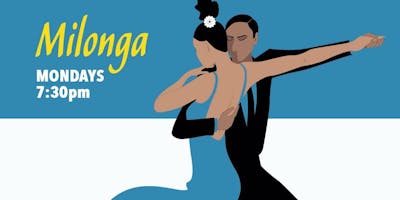 Milonga Mondays: learn Milonga lisa and traspie - open level
From the 3 tango genres Milonga seems to be the easiest, when in fact is the most difficult one.
The speed of the music, luck of understanding of Milonga Rhythm (1 – – 4 5 – 7 or 1 – – 4 1 – 3), mismatch of double time and traspie, and the misinterpretation of cadencia are only few main 'sins' that make it almost impossible to lead or follow Milonga for those uninitiated. Not to mention simple lack of Milonga steps vocabulary.
Even though some Leaders seem to enjoy being in oblivion and dive freely into hoping during the Milonga – Followers are usually scared of this specific genre. The truth is that just like we spend about 2 years learning and improving our tango basics to finally feel comfortable, Milonga requires just the same attention.
Most people that start dancing Tango don't know that the Tango has 3 different musics: Tango, Milonga and Vals. Some simply don't hear the music and don't even realize that the music is different. Some know it's a different dance but since there is not many possibilities to learn it they simply dance 'fast tango'. However – the mood of the Milonga, its cadencia, the steps, the figures are different from Tango though the principles of Tango like directions, rotations, lead, connection still apply – even more, since the dance is faster.
This class is to pass the 'basic Milonga' point and create a group of dancers – Leaders and Followers – who really feel Milonga music, understand Milonga music and can dance it. Truly dance it.