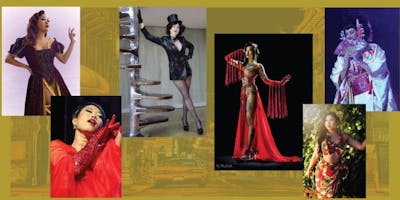 Forbidden City Burlesque
This is the first burlesque show in San Francisco Chinatown. A great lineup of Asian American burlesque artists from Seattle to New York, with local Bay Area gems as well. Featuring Frankie Fictitious, Mynx d'Meanor, The Shanghai Pearl, Sophie Rose Bisou and Phoenix A'Blaze. Guest artists include magician Tamaka, singer Dennis Tom, poet Clara Hsu and the Grant Avenue Follies. Hosted by Kitten on the Keys, Forbidden City Burlesque honors legend Coby Yee, who was a former owner of the Forbidden City Nightclub. 
Workshops on fan dancing, stage presence and costume designing; and how to add magic to your art will be offered in the afternoon from 2 to 6 pm. Fee is $30 per session. Performance at 8 pm.
Workshop I   (2:00 - 2:50 pm)
Engineering Elegant and Effortless Reveals!
Sophie Rose Bisou shows you from start to finish tips of how to make your burlesque costume reveals go smooth and timely.  It's easy to add excitement and intrigue to your act with professional seamstress techniques suitable for all levels, beginners and pros!
Workshop II   (3:00 - 3:50 pm)
Glamour and Charm with Costuming and Adding Magic to your Act
Legend Coby Yee will show how adding layers to your costuming will add to the charm and appeal of your act. Learn Old School technique of using a coat rack or chair to lay your costume pieces out instead of flinging them on the stage! Tamaka will show you how to add simple magic you can construct and add special surprises to your acts!
Workshop III   (4:00 - 4:50 pm)
Fan Dancing with Frankie Fictitious
Learn basic techniques of the seductive art of fan dancing!  Even if you don't own fans, you can learn how to hold, operate, and maneuverer fans to flutter and fly!
Workshop IV  (5:00 - 5:50 pm)
Drama Queen: Owning the Stage through Embodied Presence, Theatricality, and Grace
The Shanghai Pearl explores Burlesque's roots and the necessity of theatricality in contemporary performances. Strengthen performances by pushing our  boundaries with a focus on presence and poise. Be a more polished performer with intentional choices in walks, facial expressions, and body positioning. 
Participants are encouraged to wear comfortable movement clothes. Participants are invited to bring any heels, performance shoes, costume pieces or props they are currently working with.