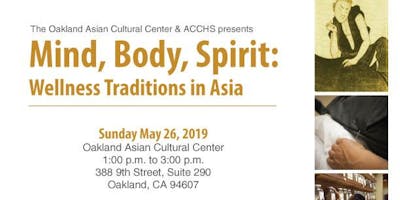 Mind, Body, Spirit: Wellness Traditions in Asia
The Oakland Asian Cultural Center invites you to celebrate Asian culture and its longstanding traditions of health and healing wisdom by attending this two hour event centered around Asian health and wellness practices.
The Academy of Chinese Culture & Health Sciences (ACCHS), Golden Gate Feng Shui School, and Shang Shung Institute will introduce and demonstrate ancient and proven techniques for maintaining your health. Learn about and experience Acupuncture, Chinese Herbology, Tui Na (Chinese medical massage), Taiqi, Qigong, Tibetan Moxibustion, and Chinese Feng Shui.
Thousands of years of health practices will be on display for your benefit. Please join us!
奥克兰亚洲文化中心邀请您来参加亚洲文化及传统健康保健活动。
届时美洲中國文化醫藥大學,金门风水学校,和Shang Shung研究所将介绍和展示古老的知识和技术。了解和体验针灸, 中草药, 推拿 (中医按摩) 太极和气功, 西藏艾灸, 和中国的风水。
欢迎参加,感謝您的支持!
Co-presented by the Oakland Asian Cultural Center and Academy of Chinese Culture and Health Sciences.