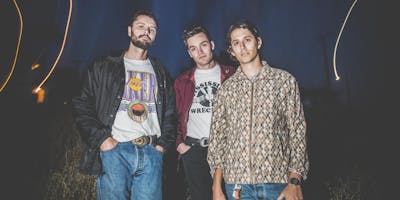 SadGirl @ Slim's
On sale: Wednesday, 4/10 @ 10am
Door 7 / Show 8
There's an enclave of the punk world where the music still sounds like an austere
distillation of America's forlorn dream. It's the sound of an old jukebox spinning a
Ronettes 45 through a broken speaker, the kid in the garage figuring out the 1-4-5
progression on guitar, the thump of the kick drum banging in 4/4 time
through a dilapidated PA. LA's SadGirl sound a lot those early American punks—the
miscreants that preceded the nihilists. Their songs sound more rooted in the wake
of Motor City soul and Pacific Northwest surf rock than in the formula laid out by The Ramones, but there is still something in their reverb-and-tremolo pop that feels like a reminder of America's decay.
On their 7" for Suicide Squeeze Records, SadGirl harnesses a golden
oldies sound with "Breakfast for 2", and touch upon its traditions. "It's a
follow up to one of the first tracks I wrote for the project, 'Breakfast Is Over'. It's
meant to be a sequel in line with rock n' roll and oldies tunes like "It's My Party" and
"Judy's Turn To Cry", says guitarist/vocalist Misha Lindes. The flipside features a cover of the surf classic "Jack the Ripper" by Link Wray. "I'm a big fan," says Lindes, "but I'm also a huge fan of the late Israeli neo-rockabilly / surf guitarist Charlie Megira, who passed away in November 2016, and Charlie has an amazing version of "Jack the Ripper," says Lindes. "So our version is really an homage to Charlie as much as it is to Link Wray."
TICKET INFORMATION 
• Slim's is an ALL AGES (6+) venue.
• No refunds or exchanges are permitted, except in the case of headliner cancellation or date change. Opening acts are subject to change.
• There is an 8 ticket limit per customer unless otherwise stated.
• NEVER buy third party tickets (Craigslist, StubHub, etc.) for over face value. Scalped tickets may not be honored.
• Once you purchase, you will receive an order confirmation email from Eventbrite on behalf of Slim's Presents.
• IMPORTANT: If you do not see your order confirmation in your inbox, make sure to check your junk/spam folder. If you still do not see your order confirmation, click here to access the Eventbrite help center.
• If you are having any other technical ticketing-related issues with your order, click here to contact Eventbrite. For general show info, click here.