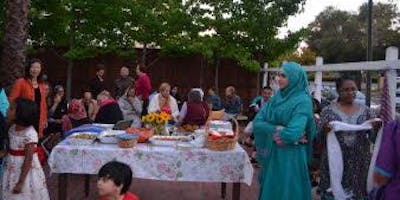 Multifaith Iftar Dinner. Let us share and enjoy friends, food and faith.
Dear friends,
I would like the pleasure of your company for an Multifaith Ifatr dinner at my home.

Ramadan (month of fasting for Muslims) . 
What: Iftar dinner  
Where: At my Home,120 Park Ave, Palo Alto
Dinner will be served at Sunset.
Note: Please bring warm jackets because it gets cold in the yard. 

About Ramadan: Ramadan is the 9th month of Islamic calendar.
The Holy book, Quran was sent down from heaven as guidance.
The day starts with eating of the suhoor. Suhoor is the meal eaten
before the sun rise. At sun sets we have another meal called Iftar.
To open the fast we pray and have Iftar meal with family and friends.

Muslims celebrate :Eid-ul-Fitr around the globe after Ramadan . 

Limited capacity : Please RSVP as soon as possible.