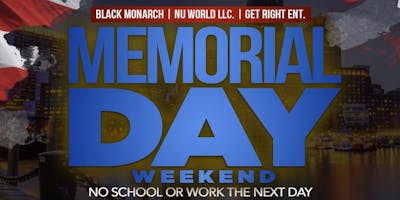 Black Monarch presents: Memorial Day
Sun. May 26th
YOU MUST BE 21+ to RSVP
PAY AT THE DOOR HAVE CASH READY
Vᴇɴᴜᴇ : Cure Lounge
246 Tremont Street, Boston, Ma, 02116
Tɪᴍᴇ : 10ᴘᴍ - 2ᴀᴍ Dᴏᴏʀ Oᴘᴇɴs ᴀᴛ 10ᴘᴍ. ID ʀᴇǫᴜɪʀᴇᴅ.
BLACK MONARCH PRESENTS: MEMORIAL DAY
Clear Your Calendar - BLACK MONARCH HERE TO TAKE OVER NEW ENGLAND!  Over 600 people came to our last event so expect great things when attending! 
Hip-Hop | Reggae | Afrobeats and more at
"MEMORIAL DAY"
For Tables Pls Call/Text 857.719.5824
F.M.I | Ig: @BlackMonarchClothing @BlackMonarchLive @Ceo.Elis  @Chewy_dior @SmooveManNamed_Ant